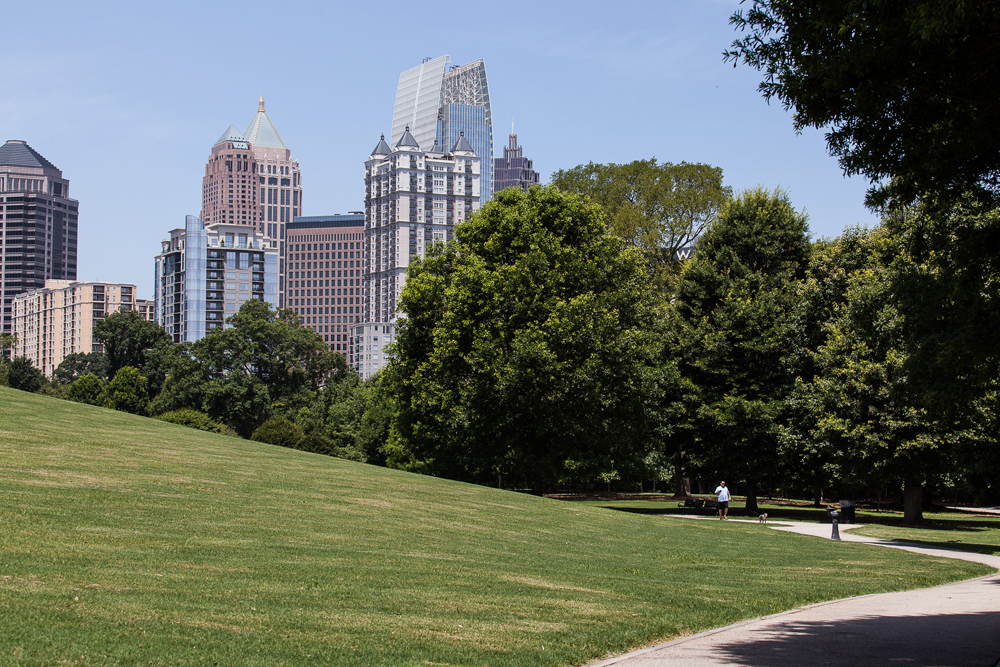 Atlanta exceeds all expectations with natural marvels and modern thrills alike. Bask in the wonder of the whale shark and other sea creatures at one of the world's largest aquariums in Downtown. Soak up the sun with Sumatran tigers and red pandas at Zoo Atlanta. Stroll through the city on the Atlanta Beltline, a 22-mile historic rail corridor connecting 45 in-town neighborhoods through multi-use trails.
Sample a selection of the world's finest cuisine with acclaimed restaurants across the city. "What'll ya have?" at The Varsity, the world's largest drive-in restaurant only moments from Midtown. Brunch couldn't be better at Sun in My Belly, a European-style neighborhood cafe nestled in Kirkwood. Step into The Vortex, home of unique tastes, beer, and the best burger in Little 5 Points.
Film fanatics can feel at home as Atlanta continues to develop into the Hollywood of the South. With Tyler Perry Studios established in 2006, the area is quickly becoming a favorite location for productions such as The Walking Dead and The Hunger Games. Step back in time with a tour of the Margaret Mitchell House, birthplace of the iconic novel made film, Gone With the Wind.
Immerse yourself in the sounds of the city at Music Midtown, Shaky Knees, or any one of several Atlanta festivals. As the capital of hip-hop, R&B, and gospel music, local venues deliver amazing acts every night of the week. Pair sounds with sights by taking a ride on Sky Atlanta, a 20-story ferris wheel towering over the historic Tabernacle music venue and Centennial Park.
Explore Atlanta's past with a visit to The King Center, where you can pay homage to the life and legacy of Dr. Martin Luther King, Jr. Journey through the World of Coca-Cola to discover the humble beginnings of a global phenomenon. Venture to Stone Mountain for a glimpse of the world's largest high-relief sculpture carved 400 feet above ground.
Framing each of these attractions, residential neighborhoods weave throughout the city ranging from quiet streets to bustling byways. Each of these areas have developed a charm and character unique unto themselves, breeding iconic in-town communities such as Little 5 Points, Virginia Highland, Midtown, and Buckhead. Positioned just outside city limits, the City of Decatur rivals Atlanta neighborhoods with a diverse population, numerous annual festivals, and prestigious universities.
Known as Atlanta's first suburban community in the northern section of the city. Ansley Park is listed on the National Register of Historic Places. It's unique in that this planned residential community has been able to survive, when the high rise office towers of Midtown's bustling business district tower over it. If you are into architecture, this is a great area…

The City of Avondale Estates was founded by George Francis Willis in 1924. The plans for his City were inspired by the trip he and his wife, Lottie, had taken to Stratford-upon-Avon. He aspired to recreate the majestic Tudor-Revival style architecture found at the birthplace of William Shakespeare in England. With the guidance of internationally known….

Considered to be Atlanta's most lavish neighborhood. Some of the city's most grand mansions are in this area. It is also home to fine dining, a large entertainment district, and upscale shopping malls. Buckhead also is the city's financial center, and a large portion of Atlanta's workforce is employed in this area. (Joy Johnston) "Filled to the gills with mansions, malls…

Candler Park is a wonderful neighborhood with beautiful 1920s Craftsman bungalow homes, excellent parks, and a fun business district located on Atlanta's east side near Emory University. (Atlanta-Midtown) Originally Candler Park was a separate city known as Edgewood, but in 1908 it became a part of Atlanta. Part of the area was used as a Union camp during…

We invite you to discover Decatur, online and in person. You'll find a traditional small-town atmosphere–and the sophistication and excitement of a college town–along with all the benefits of living in a major metropolitan area. Take a stroll through Decatur and see how friendly neighbors, tree-lined streets, great schools, parks and playing fields, libraries…

Listed on the National Register of Historic Places, the Druid Hills Historic District also incorporates in its entirety the previously listed Druid Hills Parks and Parkways Historic District. Druid Hills, its beautiful linear parks and wooded lots designed and laid out at the turn of the century by Frederick Law Olmsted. (Druid Hills CivicAssociation) Druid Hills…

Inman Park has a remarkable history that could have ended tragically, but thankfully has resulted in the most triuphant of endings. Atlanta's first planned community, located just 2 miles east of downtown, the original developer of Inman Park worked tirelessly to create a beautiful neighborhood, and succeeded. It was the place to live in Atlanta at the turn of the…

Lake Claire is a northeast Atlanta neighborhood that features a great mix of home styles, mature trees, parks, gardens, sidewalks, and, most importantly, great residents! (Lake Claire Neighbors, Inc.)…

Midtown is one of Atlanta's premier neighborhoods. Located in the heart of the city, with both an active arts and business district, as well as a plethora of housing options, one can really live, work, and play in this neighborhood. (Joy Johnston) It is the center of Atlanta's Arts and Culture and is home for an increasing number individuals and families who…

Originally a streetcar suburb, the Morningside area successfully defeated the threat of an interstate project and now has a special committee to deal with traffic in the area. Known for its lovely, well maintained homes, and excellent schools, this is a pricey but very respectable and friendly neighborhood…

Virginia Highlands is one of Atlanta's most popular neighborhoods. Located next to Midtown, the Highlands have a long and rich history. Originally created to be a trolley community with close access to commercial venues, this neighborhood has been able to retain the close proximity to residential and commercial areas. Everyone from local artists and…